Zen Dogs and Cool Cats
500mg
Sale price Price $59.00 Regular price
Our new and improved CBD Oil for Dogs 500mg!
Many of you have been an asking for an increase in strength of the 250mg tincture and we are excited to deliver this to you in a BIG way.
Just like the 250mg, this oil features a medium-chain-tryglyceride base popularly known as (MCT Oil) making this the most efficient way for your pet to digest CBD.
MCT is a purified and healthy fatty acid (similar to Omega 3-6) derived from Coconut.
This product features the most ketogenic oil known as Caprylic Acid (C8) reffering to the amount of carbon chains attached to the molecule. 
Ok, Bill Nye, so what does this mean?
Well this means your pet is getting VIP (first class) service in their digestive system by this oil bypassing the digestive tract and going straight to the liver to have these MCT's being broken down into ketone bodies.
Ketones are extremely valuable and usually are only produced by the body from cutting back on Carbohydrates or exercising relentlessly.
MCT Oil raises you and your pets ketone levels in minutes, providing a jolt of sustainable energy to the brain that enhances cognitive function and allows you to absorb essential nutrients with ease.
Combine this with All-Natural CBD Oil for Dogs sourced from the richest Hemp soils the United States has to offer, and you've got a dynamic duo like no other.

As the CBD and MCT compounds come together in harmony, your best friend is sure to want to take on at least 2 yoga classes a day, say namaste every other sentence, and demand you download the Calm meditation app to join them before bed (we couldn't fit all these warnings on the label).
So give your best friend a shot at this amazing natural holistic remedy and see what Zen Dogs & Cool Cats can do for you! 
Potential Benefits of CBD Oil:
Reduced Stress & Anxiety 
Appetite Stimulation
Digestive Support 
Pain & Inflammation Relief
Muscle Spasm Reduction
Joint Support 
Potential Benefits of MCT Oil:
Enhanced Brain Function

Nutrient Absorption
Weight Management
Memory Recall
Energy Boost
Lowered Blood Sugar
Product Certifications:
Made in the USA
Made with Organic Ingredients
Lab Tested
GMP Certified
No GMO
Dosage Recommendations:
Supplement twice a day for overall health and wellness. If necessary gradually exceed dosing weight recommendations for specific occasions!
Customer Reviews
07/09/2020
Stacey K.
United States
We love Zen Dogs CBD!
We simply add the CBD via dropper to Mick's food daily. Very easy to use. He loves it and I love keeping him healthy!
06/24/2020
Shanelle A.
United States
14 year old chihuahua
My little 14yr old chihuahua seem soooo much better after just 2 days of using it! Her health and appetite had been in decline for a while, and she is now asking for her meals (breakfast and dinner) and sometimes even goes around the bowls of the other dogs to find kibbles! Thank you! I've already recommended and some of my closest friends and family have ordered for their loved babies!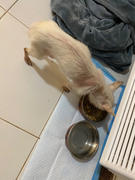 06/11/2020
Rosemary K.
United States
THIS STUFF IS GREAT
My little chihuahua who is 14 years old was having terrible seizures. Since I've been giving her your CDB OIL there have been a lot less and not as bad. Thank u Zen Dog so much.
06/11/2020
Clinton R.
United States
Love it
My animals don't mind it and it seems to help them
06/08/2020
Sarah E.
United States
Changed my dog's life!
My dog has had 2 knee surgeries (torn acl on both knees) 10 months apart. First surgery was a very long recovery and when he had his second surgery on his other knee, at the recommendation of his groomer, I started using zen dogs. Within 4 days my 10 yr old dog was acting like a puppy again. I recommend this product to all my friends who have pets and every one of them has seen improvement in their dogs. Cannot say enough good things about this product!