Zen Dogs and Cool Cats
Zen Bites - Peanut Butter & Honey Jar
Sale price Price $40.00 Regular price
Our new Zen Bites feature a mouth watering Peanut Butter & Honey flavor your furry friend will love!
CBD infused Dog Treats you can supplement on-the-go to help keep your pup Zen in any occasion.
Combine this with organic hemp powder, flax seed, and sweet potato, and you've got a healthy snack your companion can scream namaste for!
Key Ingredients:
Organic Hemp Powder: A complete source of protein; providing all nine essential amino acids
Flax Seeds: Rich in Omega-3 fats and fiber to support digestion
Peanut Flour: Low In fat and high in protein; a great source for baking
Sweet Potato: Rich in anti-oxidants; helps support the immune system
Potential Benefits of CBD:
Reduced Stress & Anxiety 
Appetite Stimulation
Digestive Support 
Pain & Inflammation Relief
Muscle Spasm Reduction
Joint Support 
Product Certifications:
Made In The USA
No GMO
GMP Certified 
Made With Organic Hemp Powder
Dosage Recommendations:
Supplement twice a day for overall health and wellness. If necessary gradually exceed dosing weight recommendations for specific occasions!
Customer Reviews
07/06/2020
Joeleen M.
United States
Amazing!!
The CBD Zen Bites have helped my very anxious dog to be more calm. Especially with all the fireworks for the 4th of July, my dog did not even flinch. Put my mind at ease to see him calm.
07/03/2020
Kristin O.
United States
Mmm mmm good!
I got these for my 3 pitties to help with overall health and anxious behavior (the 4th is upon us!). Shiloh, my oldest, recently developed very bad allergies and these treats have helped soothe her as her itchy spots heal. She absolutely loves them and tbh they do smell pretty yummy! I'll be placing another order soon! Thank you for making such a high-quality product :)
04/09/2020
Carla R.
United States
ZEN BITES
MY DOGS LOVE THESE. THEY TEND TO GET ANXIETY AND THEY ARE ABLE TO RELAX AND BEHAVE BETTER IN THERI CRATES. THE ANXIETY WAS CAUSING THEM TO GO ***** IN THERE. NOW, THE ACCIDENTS HAVE GREATLY MINIMIZED.
04/01/2020
Lauren s.
United States
Love these bites
We love these bites my dogs always look forward to eating them it's like their favorite part of the day when they get their CBD bites. We mainly give them to nova our malinois who has hip dysplasia it's been helping her greatly with her hip inflammation as well as some anxiety she has. Definitely a must have for us!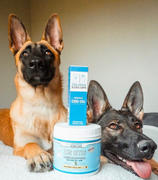 03/30/2020
Cory
United States
Big fans of these bites!
My dog loves these! We usually give them to him if we know there is going to be a high stress situation and they help immensely. He has gotten a lot more calm in stressful situations due to using these so frequently as well as other Zen products. We also love their hemp oil!